JEWELLERY

SOUTACHE EMBROIDERY

Our luxurious jewellery collection reflects the love for glass and for the philosophy of one-of-a-kind concept development, where each work is a unique and original piece of art.

To bring our jewelry to life, we use precise and very laborious Soutache embroidery technique, which dates back to the fourteenth century in France.

The silky soutache braids are meticulously stitched together, with excellent thread while combining a variety of cabochons, glass beads, and gemstones, resulting in a fantastic combination of color and style designs. All of these tiny beads are enclosed in the frame of silk, as same as the glass is framed with lead in the stained glass design.

We create our jewelry with dedication and passion. The time of making a particular jewelry piece varies from few days for smaller form up to a few weeks for more complex designs such as necklace or collar.

In our collection, we introduce pieces for women who like to express their character and originality.

This lightweight jewelry loves to be worn. Discover our collection and find the art piece to make your personal statement.


︎

VIEW COLLECTION
︎


NAVY BLUE
This strong in color collar definitely is a statement of style. Beautiful in form drag the attention with the intense contrast of white, creme and blue satin braids. Hematite beads are a significant accent in the whole design where the smaller glass beads dotted in between complete the entire look.
PRICE 450 EUR
STAR

Beautiful pair of earrings in shades of silver gray will add a beautiful, stylish accent to your little black dress or even for the casual outfit with the favorite pair of jeans.
The bottom part is decorated with Swarovsky's crystals, glass pearls, and tiny, fire-polished Japanese TOHO glass beads.
The earring's hook is made of surgical and nickel free steel. .
PRICE 110 EUR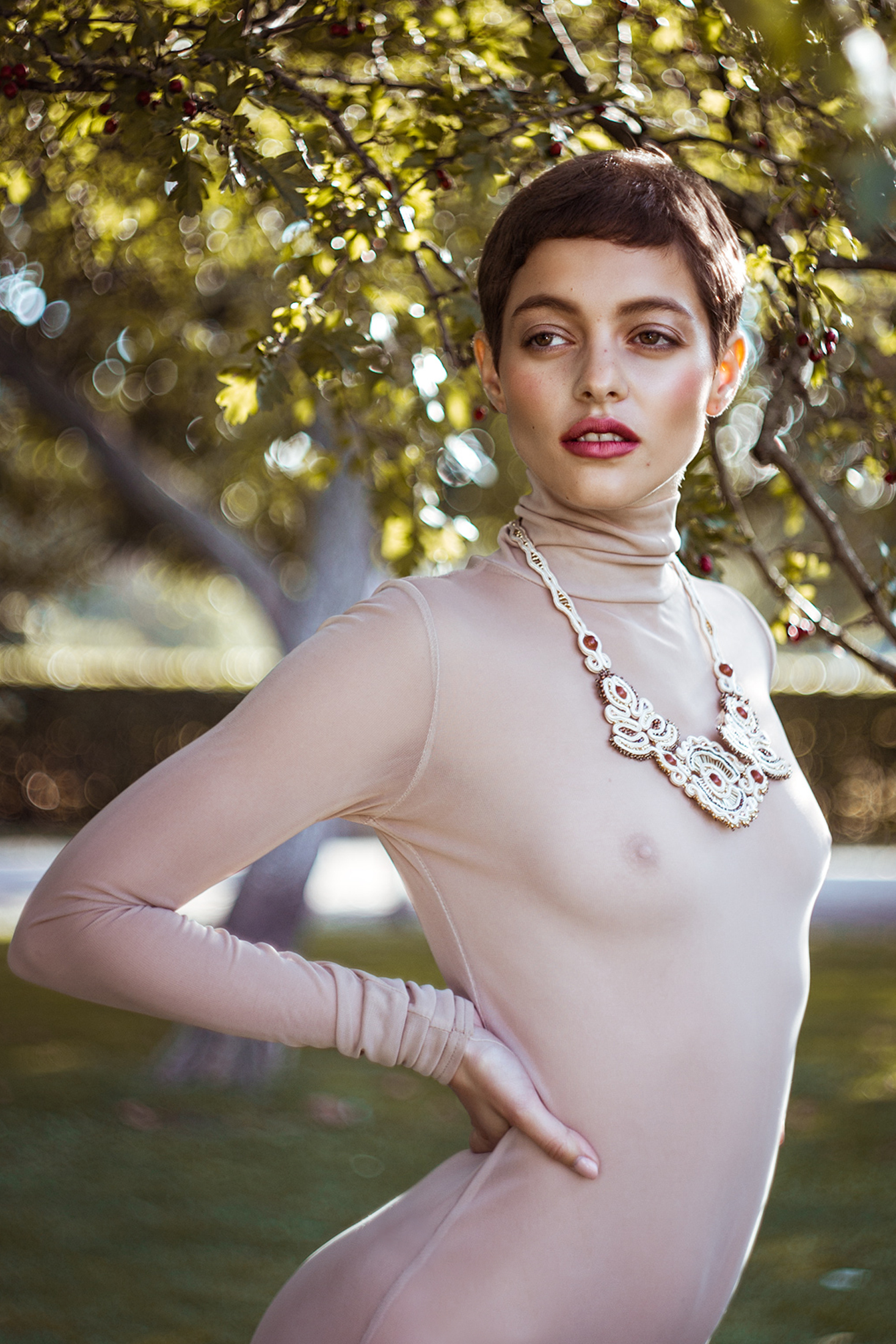 ROSETTE

While creating this necklace we have been inspired by the rose window. This circular form of stained glass was the architectural jewelry of the gothic cathedrals.
The composition of colorful glass pieces was revealed by the light, which was showing its unique beauty while casting a bright light spot in the interior.
We composed our necklace in shades of beige and brown colors. The carefully embroidered form is enriched by Goldstone and tiny TOHO glass beads. A beautiful creation for a unique occasion.
PRICE 360 EUR
PHIALE COLLAR

This unique collar drags the attention with the intense contrast of black and orange colors. The braids have been decorated with sparkling green beads, but the round, glass cabochons are a significant accent in the whole design. They remind shiny spiders eyes, which hypnotize with their reflective surface.
Significant piece for a decisive woman.
PRICE 420 EUR
MOTHER PEARL

This organic in form necklace was inspired by the corals and sea life.
In between black and gold satin soutache cords, we placed decorative mother pearl elements.
Tiny glass pearls and fire polished beads embrace the whole composition in delicacy and elegance.
PRICE 320 EUR/ SOLD
NACRE
Beautiful necklace with the heart base created by the natural mother pearl element. The elegant color set is completed by tiny, sandblasted glass beads, cubic hematite beads, and glass pearls. Original accessory statement.
PRICE 310 EUR/ SOLD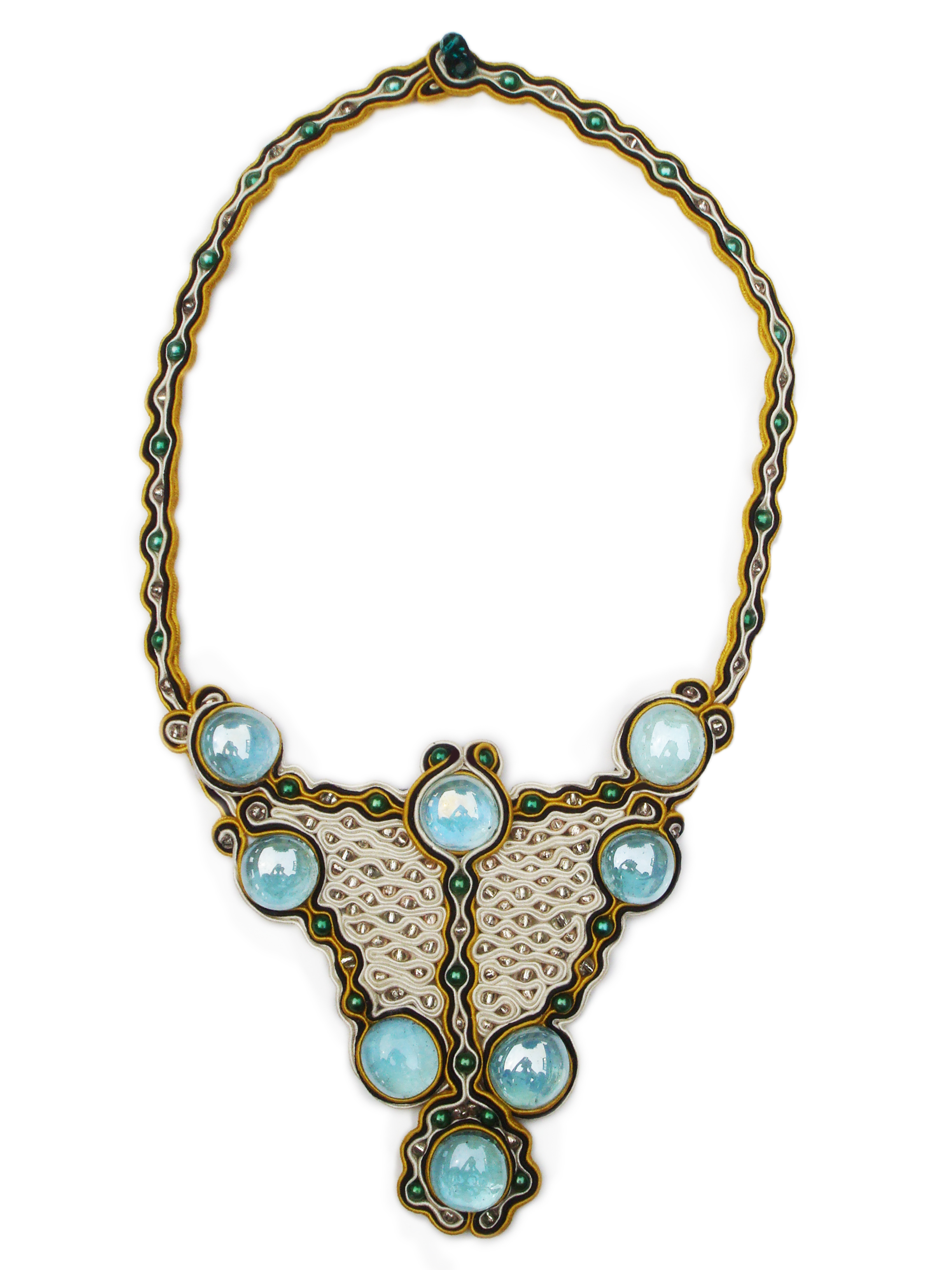 ANTOINETTE
This necklace was inspired by the figure of Marie Antoinette, Queen of France from 1774. At the gold age of Baroque and time of rococo when dresses and accessories were encrusted with precious stones or embroidered with gold and silver thread.
Our original necklace was decorated with drops of heavenly blue glass cabochons. The black and yellow soutache braids are the frames for tiny, vintage glass beads in herbal rose and green color.
The triangular form decorates the neck and the cleavage beautifully.
PRICE 360 EUR

Photography - Rebeka Vodrazkova
Make up & Styling - Iveta Jonikaite
Model - Marcela Cierkosz